Complete Guide to
Healthcare Facilities Lighting
Everything you need to know about LED lighting maintenance, what to buy, and how to save on energy costs
Every patient has the same expectation at healthcare facilities: to receive quality care.
Proper lighting might not save lives, but it can certainly help in the process. Using the correct lighting can help ease concerns, from safety to comfort during some of the most intense moments of patients' lives.
But the benefits impact more than just patients. Great lighting in healthcare facilities can attract and retain great workers, and aid in their ability to do great work in various settings from offices to operating rooms.
Chief engineers and facility managers are responsible for much more than caring for the healthcare facility – they're responsible for creating an environment that's meant to comfort, and quality lighting can make all the difference.
We're answering some of the top questions we get related to hospital and healthcare lighting in this guide. But if you have other questions, don't hesitate to contact us.
Common types of lighting for healthcare facilities
Choosing the correct lighting in healthcare facilities is critical. Once you're inside, hospitals use mostly artificial light. Patients might not see any natural light because they're often in interior rooms, or exterior rooms are covered for privacy reasons.
Most healthcare buildings today have a mixture of fluorescent, halogen, and incandescent lights, as well as some LEDs.
The U.S. Energy Information Administration found that 90% of hospitals were using compact fluorescent lamps (CFLs) back in 2007. These are commonly found in recessed cans and 2'x2' troffers.
While CFLs do cut down on energy usage, production has dramatically dropped. LEDs have taken over the marketplace. Check out this chart that compares the two:
Comparing average household lamps — CFL vs. LED
| | CFL | LED |
| --- | --- | --- |
| Average product cost | $2.25 | $5.00 |
| Lumens (light output) | 780 | 780 |
| Wattage (energy usage) | 10 | 5 |
| Lumens per watt | 78 | 156 |
| Average lifespan | 10,000 | 25,000 |
With so many lighting options in the market today, it can be overwhelming trying to make the best decision and find the right products.
Before we get to our common light bulbs and the best LED replacement, here are a few metrics that could help in your decision.
CRI

or

Color Rendering Index: A number between 0 and 100 that is used to predict how well a product renders color. The closer to 100, the better – or more true – colors should look under its light. You might not be as concerned with this as you are with color temperature in your hotel. That said, some boutique luxury hotels may use high CRI lighting to give guests a more pleasant experience.

CCT

or

correlated color temperature: A gauge of how yellow or blue the color of light emitted from a light bulb appears. It's measured in the Kelvin unit (K) and is most commonly found between 2400 K and 6500 K. You want to create a warm, welcoming environment for your hotel.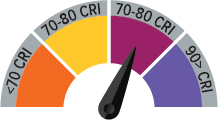 | APPLICATION | RECOMMENDED COLOR TEMPERATURE |
| --- | --- |
| Hospitals | Cooler color temperature (3500K to 5000K) are good for setting a clean, crisp atmosphere and creating alertness in a hospital |
To simplify the purchasing process, we're listing the most common types of light bulbs found in hospitals below. We're also including the LED equivalent in case you are looking for the best LED lighting for hospitals. You can shop for them in our online store, and if you register for a business account you get discounted pricing.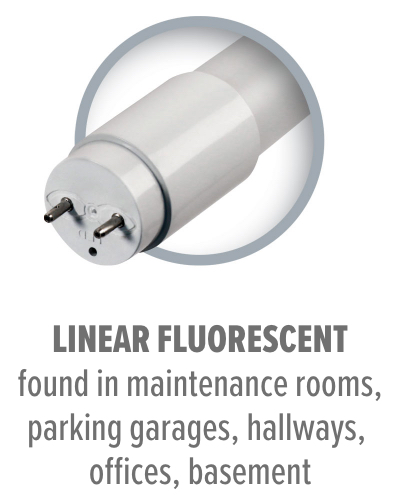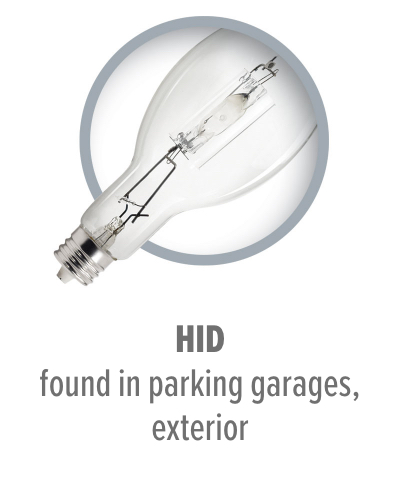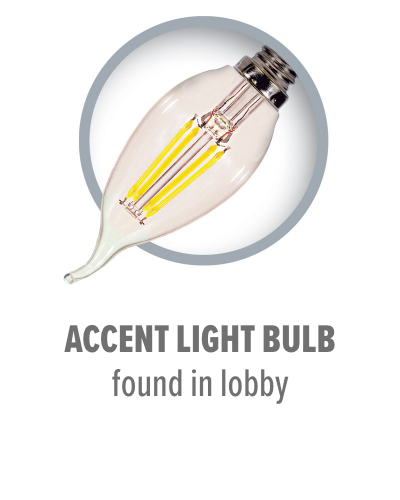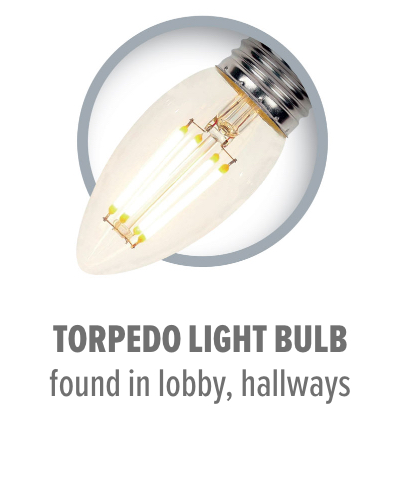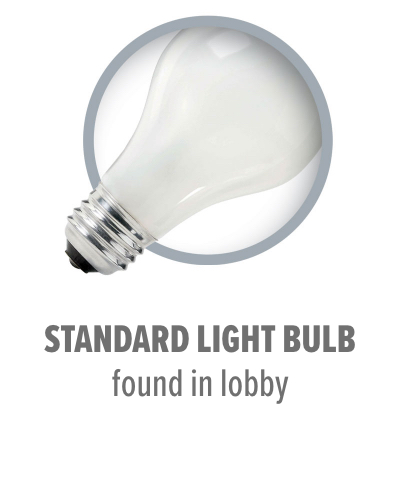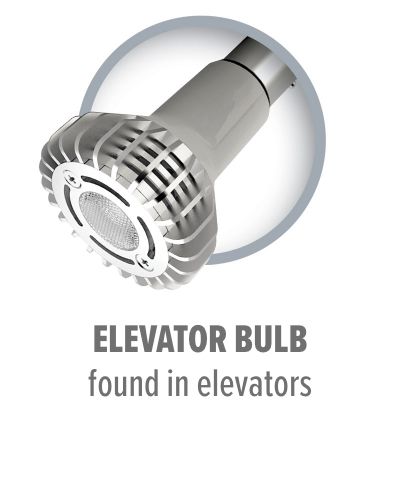 As you replace your light bulbs, you also need to recycle them properly. Regency Lighting is a one-stop lighting and electronic recycling provider, allowing you to safely get rid of materials like lamps, ballasts, thermostats, exit signs, and electronics.

Maintenance tips for healthcare buildings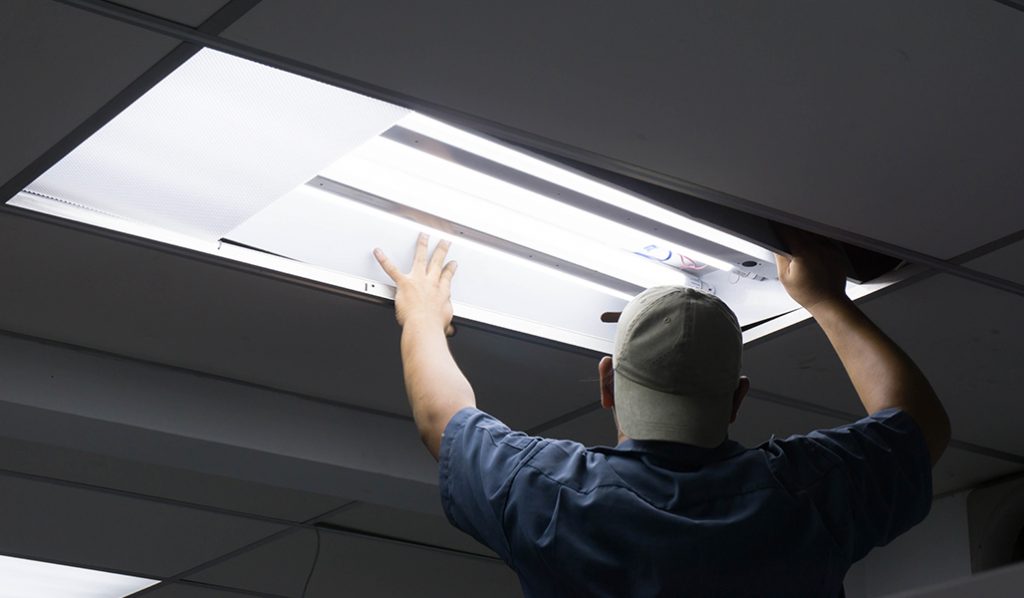 With so many different types of light bulbs found in a healthcare facility, maintenance easily becomes a top priority (and a big hassle).
Using manpower to constantly change out light bulbs is a waste of time and resources. Chief engineers and facility managers could instead spend that time focused on larger projects.
Following these maintenance tips will not only enhance the experience for patients, but also for employees.
Focus on hard to maintain areas first. The last thing you want is someone constantly crowding a busy hallway or on a ladder in the lobby to change out light bulbs. Spending time on places in the hospital where it's difficult to change out light bulbs is the first step in the maintenance process. You should also consider focusing on areas where safety is a top concern. Those might include: parking garage, elevator, stairwells, and those busy, high-traffic hallways.
Schedule maintenance: Work with a provider or schedule out your maintenance on a calendar. The idea here is to maintain your lighting like you would your car – if you don't maintain good air pressure in your tires or change your oil regularly, you will experience a blowout or break down at the worst possible time. And if you don't schedule out your lighting maintenance, you may experience an outage on the busiest day of the week or during a critical healthcare event.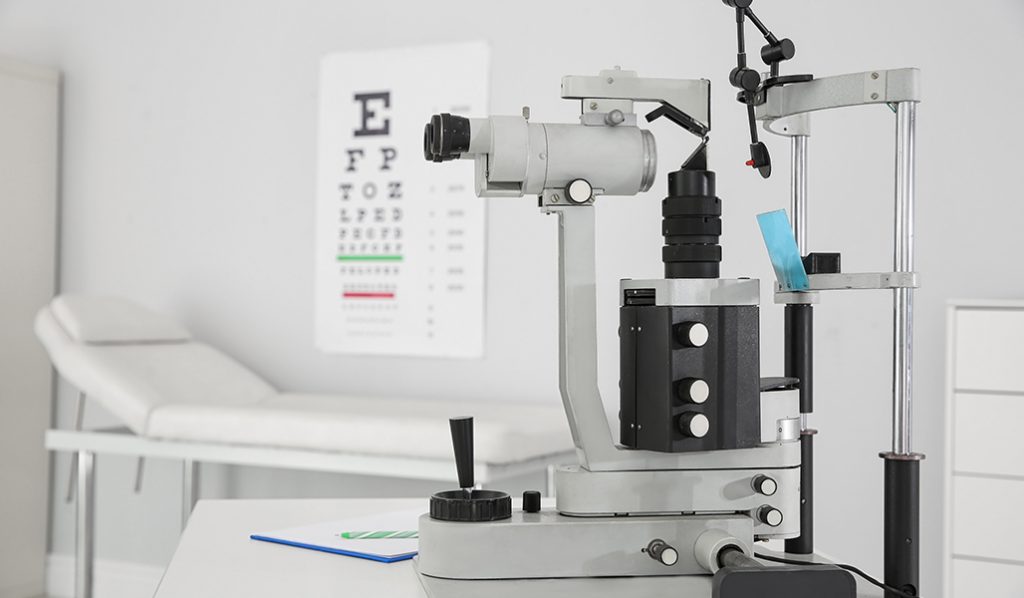 Another bonus for following these maintenance tips: color consistency. As you replace light bulbs, you might notice a distinct color difference.
This happens for a number of reasons. Light color could vary based on manufacturer. If you order the same product from different manufacturers, you might notice a distinct difference, even if the specifications are the same.
Burn time is another factor. Light bulb colors change as the burn time increases, or the longer they're used. That's why it helps to replace bulbs in groups, so they burn (and change color) at the same rate.
If you've tried these tips, and there are still maintenance challenges you're trying to overcome, our team of lighting specialists is here to help.
Large hospitals can spend tens of millions of dollars in energy every year. Think about that cost and what it would mean if you could save even a fraction of that.
It makes sense why the costs are so high. Patients and workers are coming in and out of the doors 24 hours a day, 7 days a week. There is no way to turn the lights off when you need to be ready for emergencies at any minute.
Any money you could save on operating your healthcare facility, could translate to more money invested in better patient care.
In most commercial buildings, lighting costs make up about 40% of total operating costs. That means a big chunk of the budget could be cut by switching to more energy-efficient lighting.
Waiting to switch could be a big missed opportunity – and a big hit to your bottom line.
While energy is a big cost in lighting, that isn't the only factor. We can break that cost down even further for you: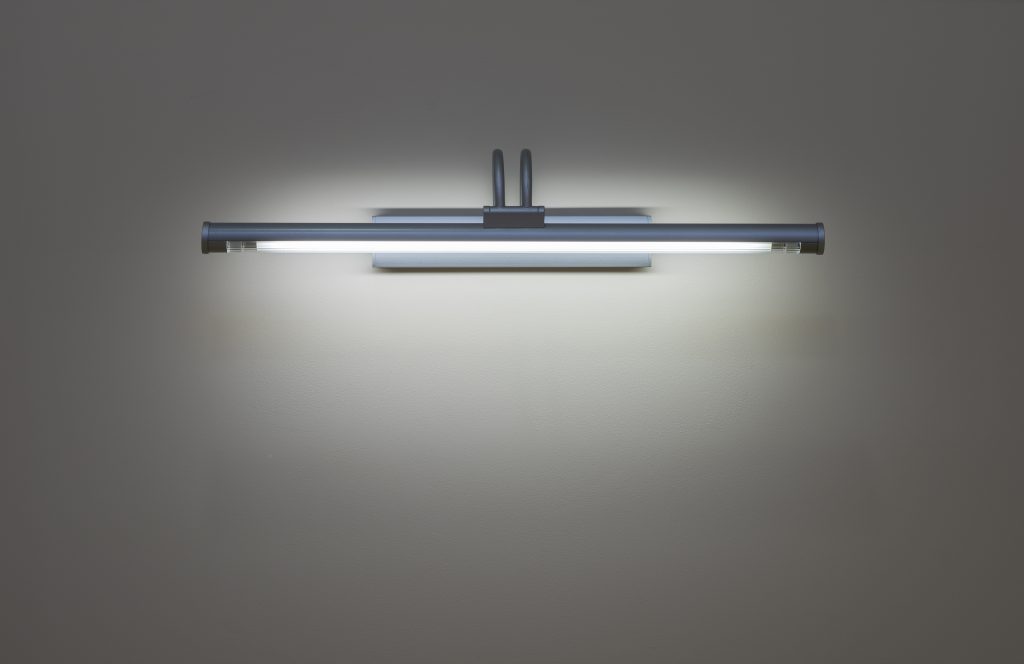 You might also want to consider lighting controls when you're trying to save energy and money.
Lighting controls could be extremely effective in healthcare facilities, especially in areas that are not used 24/7 or in some patient rooms.
It's no secret that leaving lights on in empty rooms is a huge waste of energy (and money!). Using controls to automate when lights turn on and off is an easy way to save on energy costs.
Lighting control systems can be as simple or as complicated as you would like. Here are a few basic options:
Dimmers: Dimming lightbulbs reduces wattage and output, resulting in energy savings. This can also help set different tones throughout your building.
Sensors: No one wants to light an empty room – so installing occupancy sensors

in a conference room that's rarely used is an easy place to start. Or it could be tedious to turn on parking lot lights every night, so

photosensor controls

could be a huge advantage.

Motion sensors

are very useful for security lighting. They turn on when motion is detected, then turn off a short while later.

Timers:Is there an empty conference room in the hotel? Or do you only need accent lights on for certain hours of the day? Timers may be the best another option to consider.
More sophisticated lighting control systems can transform a patient's experience and assist in their recovery. Imagine giving patients the option to comfortably control light levels from their beds. And we're not talking about just turning lights on and off.  Dimming can easily transform a room.
Lighting control systems can get even more impactful. When a nurse walks in to get blood samples, controls can allow only essential room lights to turn on. The patient gets better sleep and the nurse can still complete his or her job with accuracy.
Hospitals have also started to look into the best options to integrate lighting into other systems, like temperature control.
Lighting and Patient Care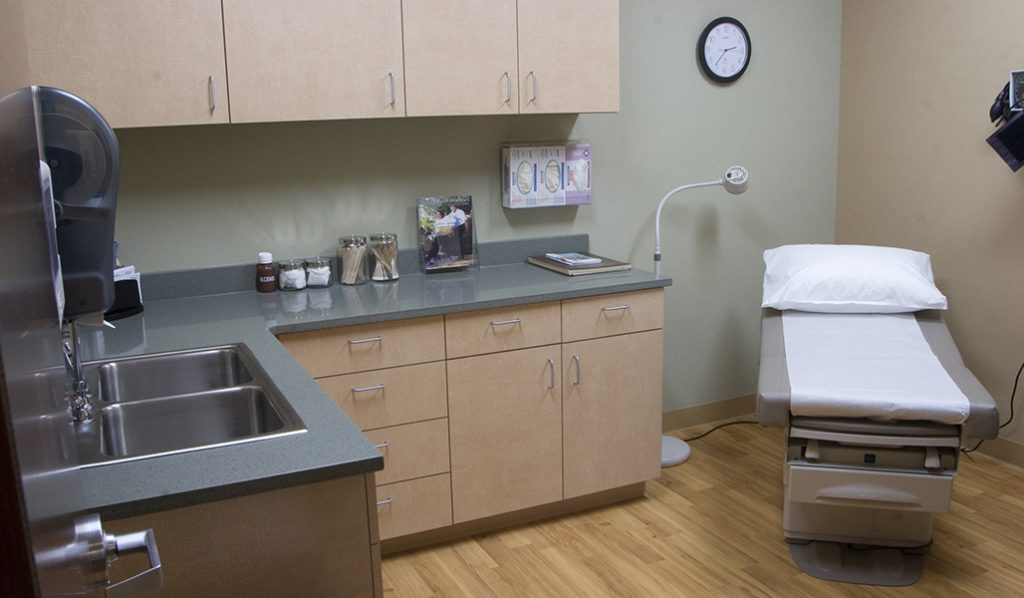 Every healthcare facility has the same mission, regardless of the cost. That's to treat patients.
Lighting can help give patients a quality experience, which they are likely to share with friends and family. Or lighting can play a direct role in a negative experience, which patients are also likely to share with friends and family.
Outside of emergency situations, patients might have a choice of where they want medical attention. Think about an expectant mother, pregnant with her first child.
If she tours a healthcare facility with noticeably different lighting colors, dark spots from burned out light bulbs, or light that is not very comforting, it could send a red flag that the hospital is not very well maintained. Poor lighting could directly impact her decision.
We've already mentioned how lighting controls can transform a patient's experience. Color tuning is another technology that can change – and enhance – an entire environment. Color tuning is typically done by separately dimming arrays of warm and cool LEDs. This can change the mood of a room very quickly. Dialing in on the correct color can help with sleep, or with different tasks throughout the day.
Our design team is well-versed in color tuning and all of its benefits.
Hospital lighting standards and safety
When you think of safety, you have to think outside of just your patients or employees.
Does your healthcare facility have an emergency department? Can ambulance drivers properly see where they are going at night?
What about visitors? Lighting can not only help visitors navigate the hallways, but it could also help them in the parking garage or parking lot at night.
If your parking garage is poorly lit, it could send the wrong signal about your level of safety concerns.
Plus, using the wrong lighting can take up a huge chunk of your operating budget.
You can solve both problems by upgrading your parking garage to LEDs. Look at the night and day difference at a parking garage in San Mateo, California.

Bottom line: Well-lit areas should be a top safety priority to help everyone as they enter, navigate, and leave your hospital.
As a basic safety practice, make sure sidewalks, floors, and ramps all around the property are properly lit. It should also be easy to see signs both inside and outside of the hospital at night.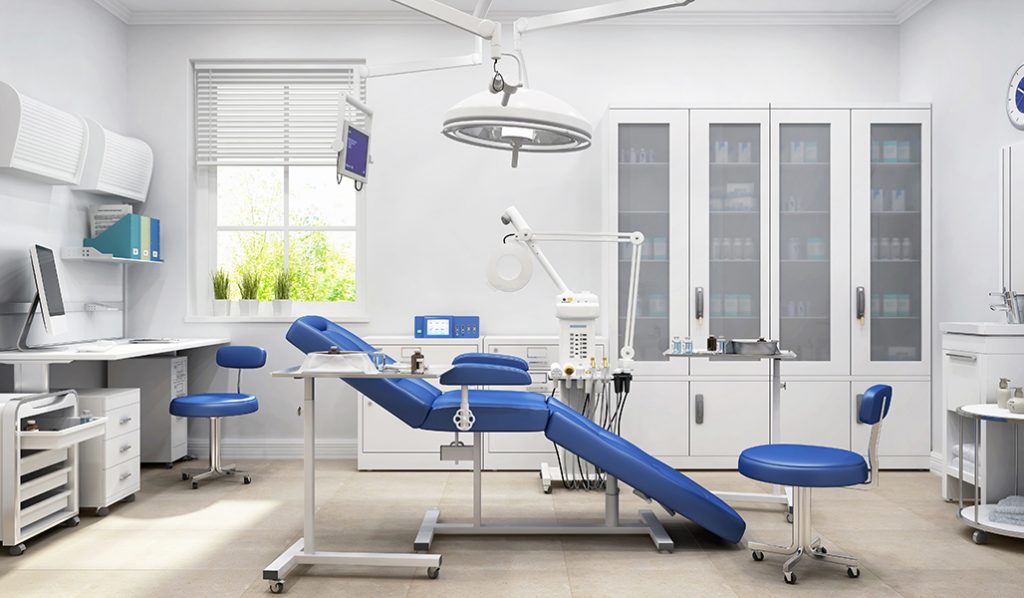 Healthcare lighting and Title 24
There is also a push for more sophisticated lighting systems in many areas of the country, and that could have you dealing with building code.
If you're in California – new construction and building renovations must meet Title 24 standards. Healthcare facilities are included starting in 2020. The energy code significantly impacts lighting and lighting controls. It's triggered any time you pull a building permit.
Other states are quickly catching onto these standards, too. If you're in New York City – your healthcare facility may have to meet lighting upgrade requirements.
If you're subject to strict building codes, contact us. We dove headfirst into Title 24 in California years ago, and we are staying on top of 2025 requirements in New York City, so we deal with this day in and day out.
Where to start with LED retrofits
Every time you order new light bulbs, you're probably pushed to purchase LEDs.
There might be several reasons why you haven't already upgraded your healthcare facility's lighting. Maybe you still have boxes of those linear fluorescents you want to burn through before you buy more light bulbs.
But if you haven't already retrofitted to LED, you could be losing money in the amount of time you're taking to make the jump.
We aren't just talking about patient rooms. Savings could stack up faster in places you might not think about.
When you start thinking about LED retrofits, think about maintenance. You want to target the hardest to maintain areas first. This includes the parking garage, stairwells, high-ceiling areas in the lobby, and any exterior lighting.
Parking garage

Safety and quality lighting should go hand-in-hand for your parking garage (see above). Because they must always be lit, you run into a high burn time. And because replacing a bulb in a parking garage can be tedious, unsafe, and obstructive, it's a great place to consider switching to LEDs.

Stairwells

If your stairs aren't well-lit, you could be facing building code issues and hazards to patients, employees, and visitors. The lights need to be on 24/7 – so you're looking at using significant energy and dealing with frequent replacement. Retrofitting to LED equals instant labor and energy savings.

Lobby

You want your lobby to be aesthetically pleasing, and it's another area where the lights are probably on 24 hours a day, seven days a week. If you have high ceilings, it's a labor-intensive job for the maintenance crew to replace lights. And if you have specialty fixtures in your lobby, you likely have halogen light bulbs. Those are the most energy consuming, so replacing them with LED will you give you a good bang for your buck.

Exterior

From parking lots to signage – there are a variety of lights that require a lot of energy and burn time outside of your hospital.Think about your signs that need to be visible at all hours. Some of them might be tall – requiring a bucket truck to make repairs. Using LED there would also cut out maintenance hours.Switching to LEDs in your parking lot can cover spaces more easily. That means you also get a safety upgrade along with your LED upgrade. Plus, it's another place to think about using that bucket truck a little less often.

High-traffic areas

There is no down time in a hospital. Patients, employees, and visitors flood hallways at all times of the day. The last thing you want is a ladder blocking the high-traffic areas because you have to constantly change out light bulbs. Switching to LEDs means less time on a ladder.
Just upgrading these areas could save you thousands every year.
Another decision to consider before you dive into the land of LEDs: should you retrofit with LED bulbs, or do all fixtures need to be replaced? Here's a look at pros and cons.
LED fixture replacement retrofit pros:
Maximum control over light output and placement (great for situations where lighting design is paramount)

Longer life rating and efficacy than LED replacement lamps

Lower maximum fixture wattage than traditional fixtures, which is advantageous for meeting strict building codes or Title 24 standards

Excellent performance for controls and dimming
LED fixture replacement retrofit cons:
Longer, more expensive installation

Higher up-front cost than LED replacement lamps

Potential for difficulty in upgrading to future emerging technologies
Because LEDs are now more reliable and efficient – and manufacturers are lowering prices – it's now costing you to wait to retrofit to LEDs.
FAQ: Common lighting questions for commercial offices
How long do LED lamps and fixtures last?
LEDs are not like traditional light bulbs, where one day they will suddenly not turn on. You may notice they're not as bright when they start to lose their life, but before they stop completely. The actual lifespan depends on the application of the lamp and the fixture.
What's the difference between a lamp and fixture retrofit?
| | |
| --- | --- |
| LED Lamp Retrofit Pros | LED Lamp Retrofit Cons |
| Quick, easy installation | Maximum fixture wattage remains the same (applies to Title 24) |
| Significant efficiency gain | Common challenges with dimming |
| Strong rebate programs | |
| | |
| --- | --- |
| LED Fixture Retrofit Pros | LED Fixture Retrofit Cons |
| Maximum control over light output and placement | Longer, more expensive installation |
| Longer life rating that LED lamps | Generally higher upfront costs than LED replacement lamps |
| Lower maximum fixture wattage than traditional fixtures | Potential for difficulty in upgrading to future emerging technologies |
| Excellent performance for controls and dimming | |
Click here to dive deeper into the differences.
What is lamp life and how does it compare to rated life?
Average rated life is an average rating, in hours, indicating when 50 percent
of a large group of lamps has failed.
Lamp life is the expected operating time. Most, but not all, lamps will meet
the lamp life hours.
If I upgrade to LED, will the colors be consistent?
Color consistency is a big concern, especially when you are looking to create a specific atmosphere in your lobby, hallways, or patient rooms. It's a problem that can surface immediately or as you replace bulbs over time. Your first option is to buy from a reputable manufacturer with a tight color consistency policy. The second option is color tuning. It's a more advanced option that we discuss here.
What is CRI?
Color Rendering Index measures the visual effect a light source has on the perceived color of objects it illuminates. High CRI light generally makes colors natural and vibrant. Low CRI causes come colors to appear washed out or even to take on a completely different hue. In hospitals, we generally recommend a CRI of at least 82. But there may be areas where a higher color accuracy is important, like exam rooms and operating rooms. In these cases, look for a CRI of 90 or more.
What is CCT?
Correlated Color Temperature gauges how yellow or blue light appears, measured in Kelvin. Warm light sources have low color temperatures (2200-3000K), like red, orange, and yellow. Cool light sources have high color temperatures (>4000K) and feature blue light. In hospitals, we generally recommend a Color Temperature in the 2700K to 3000K range.
Should I worry about wattage?
Wattage is the measure of how much energy a lamp needs to light up. This will differ based on the application, and if you are using LEDs. You might have wattage restrictions if you have strict building codes.
Lighting can be complicated, but we try to make it easier.
Bottom line: there is never a one-size-fits-all approach to healthcare lighting. We hope you found the answers you needed for your building.
But if you have more questions – we're happy to help you walk through the process. Click here to talk to a lighting consultant.
We also have thousands of products, ready to buy right now (that includes more than light bulbs). Register for a business account to get discounted pricing.